TrapX Appliance: 500+ emulations across 200 VLANs/appliance
Cloud: support for both public and private clouds, including AWS EC2 and MS Azure
On-Prem: support for both physical and virtualized hardware across VMWare, Hyper-V, KVM, and OpenStack
TrapX Deception Tokens: Lures deployable via GPO/SCCM
lures deployable via
GPO/SCCM: Purpose-built automatic Incident Response system and Forensics (AIR platform)
ABOUT SOLUTION
Why TrapX DeceptionGrid?
The only

deception solution

in the industry capable to detect compromised remote users.
DeceptionGrid from TrapX is the only Deception platform that delivers both comprehensive protection and full visibility at scale. In just minutes, patented emulation technology launches hundreds of authentic traps that engage attackers and malware and generate high-fidelity alerts for rapid response.

Unlike anything else on the market, our lightweight, touch-less technology offers non-disruptive support for a broad array of systems and devices, including IT, OT, IoT, SCADA, ICS, and SWIFT, and delivers immediate time-to-value.
TrapX agentless architecture deploys quickly without impacting production environments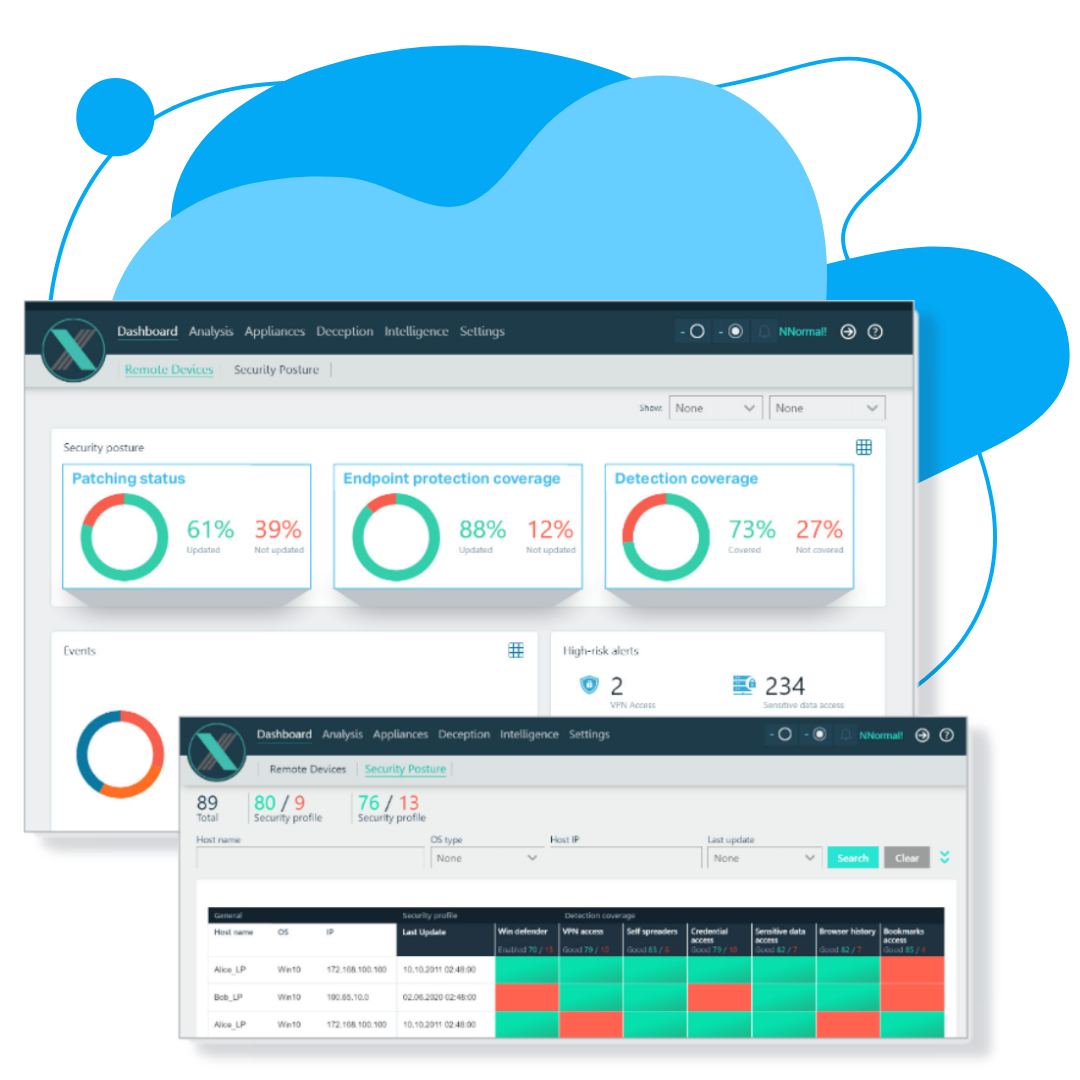 Out-of-the-Box (OOTB) Traps: Area Coverage
POINTS
Workstations Windows XP, 7, 8, 10; Mac OS
Servers Windows 2003, 2008, 2012, 2016; Linux Server; Public Traps
Networking Cisco Catalyst, Cisco PBX (VOIP), Juniper EX / Junos
Industrial Siemens PLC, SCADA, SAP GUI / NetWeaver, Rockwell PLC
IoT Point of Sale (POS), Phillips Smart Lights, Lexmark Printers, Axis Network Cameras
TECHNOLOGY
Medical PACS Server and Viewer, MRI, CT
Financial SWIFT Web, Lite, Alliance Gateway and Access, ATM
ADDITIONAL
BYOT For systems and devices not included above, TrapX provides self-service, 'Build Your Own Trap' capabilities.
Traps can also be camouflaged as any specialized IoT and OT devices.
Product Highlights
TrapX DeceptionGrid
Extensive OOTB traps – more than 500 traps deployed in minutes
Cloud-based and/or on-premise deployment; No excessive hardware or software to license and maintain
Risk ranked alerting for all trap events, including Scan, Connection, Reconnaissance, Interaction, and Infection
Integrated with endpoint and network security products, including Sandbox for files retrieved from traps for end-to-end incident intelligence and response
NAC / SECURITY
Portnox Network Access Control
Our Network Access Control (NAC) solution — Portnox NAC, 100% visibility of all devices in the network.
No matter the size and make-up of the network, our network access control (NAC) solution is easy-to-deploy and manage, and delivers all the security essentials to keep the data on your network. You need only 33 minutes to set up, it's free to try.
ATTACK SIMULATION / SECURITY
Cyberbit Range
Cyberbit Range is a hyper-realistic cyber simulation platform that uses flight simulation disciplines to train, onboard, and dramatically improve the performance of incident response teams.

By training in cyber range exercises your team will excel, both technically and mentally when the real attack takes place.
SIEM / SECURITY
LogRhythm SIEM
LogRhythm Security information and event management is a combination of information security management (SIM) and security event management (SEM) systems into a single security management system.

Available: SIEM technology can reside either on-premise (on your own hardware) or in the cloud (on someone else's hardware) and collect data from a massive variety of data sources.